PRESS RELEASE
Brussels, June 2019 – At its Annual General Meeting in Prague, FEDIAF released its yearly data on the European pet market. The 2018 "FEDIAF Facts & Figures" confirm that pets continue to play an important role in society.
Compared to 2017 statistics, EU cat and dog ownership combined remains at around 141 million animals, but cats (75.3 m) have slightly gained in numbers vis-à-vis dogs (65.5 m).
The popularity of birds, small mammals and reptiles was confirmed as figures continued at a consistent level. Aquaria (indoor tanks and ponds), however, saw a boost from 9.3 m in 2017 to now 10.4 m in the EU.
This trend is also confirmed in other countries included in the FEDIAF statistics (EFTA countries, Russia, Switzerland and Turkey).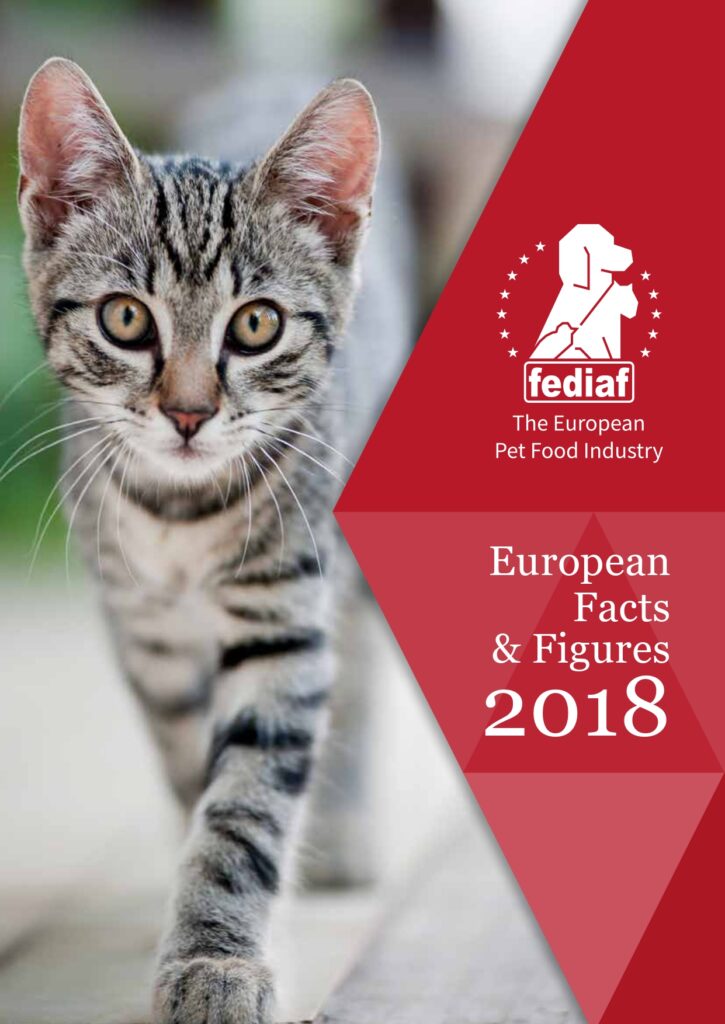 Pet ownership has a significant economic and social impact
The contribution of pet ownership to the overall economy remains significant: The combined annual value of the "pet economy" has increased from €36.5 bn in 2017 to €39.5 bn, €21 bn for pet food alone.
Mechthild Exner-Herforth, President of FEDIAF advised: "It is heartening to see that Europeans continue to care for their pets and enjoy being surrounded by them. This year's figures show again that pet owners remain committed to not only providing good nutrition for their pets, but to all aspects of their care which is highlighted by the increased spending on veterinary care and accessories, thus ensuring a better life of pets and a better life together."
The pet food sector is responsible for providing approximately 100,000 jobs in the industry and we estimate a further 900,000 jobs in related pet care sectors. Included in this are the suppliers to the pet food industry, approximately 200,000 veterinarians in Europe, 60,000 specialist pet stores, the pet accessories industry, trade shows, pet press, breeders, animal welfare organisations and transport."
"FEDIAF Facts and Figures 2018" are available at: http://www.fediaf.org/who-we-are/european-statistics.html
Click here to read our previous news
***
FEDIAF represents the European pet food industry with around 200 production sites. It is an umbrella organization of national pet food industry associations plus direct company members. FEDIAF's mission is to be the credible and responsible voice of the European pet food industry collaborating with authorities, regulators and academics for achieving favourable conditions for the supply of safe, nutritious and palatable products to pets and their owners. Based in Brussels, FEDIAF is fully committed to promoting responsible pet ownership, to the wellbeing of pet animals, to their important social role and to the respect of sustainable development.www.fediaf.org
The annual Facts & Figures from FEDIAF are compiled using figures from FEDIAF and its member associations and estimations based upon where indicated.
Contact: Thomas Meyer, Secretary General, + 32 (2) 536 05 20 –fediaf@fediaf.org