PRESS RELEASE
In response to controversy around the role of carbohydrates, FEDIAF has worked with nutrition experts on its Scientific Advisory Board to develop a new factsheet about carbohydrates in dog and cat food. FEDIAF's range of highly regarded factsheets now totals 20 and is available to download at fediaf.org.
Brussels, January 2020 – Dr Thomas Brenten, Chair of the FEDIAF Nutrition and Analytical Science Working Group explains: "The Carbohydrates Factsheet is a pet owner-friendly resource developed to complement our more detailed 'FEDIAF Scientific Advisory Board Carbohydrate Expert Review' paper, which has been well received by professionals.
The Carbohydrates Factsheet outlines the role of carbohydrates in companion animal diets and helps bust myths questioning their value. More detail is given on the benefits of digestible carbohydrates, the different types of fibre and the main sources of carbohydrates such as grains, fruit and vegetables."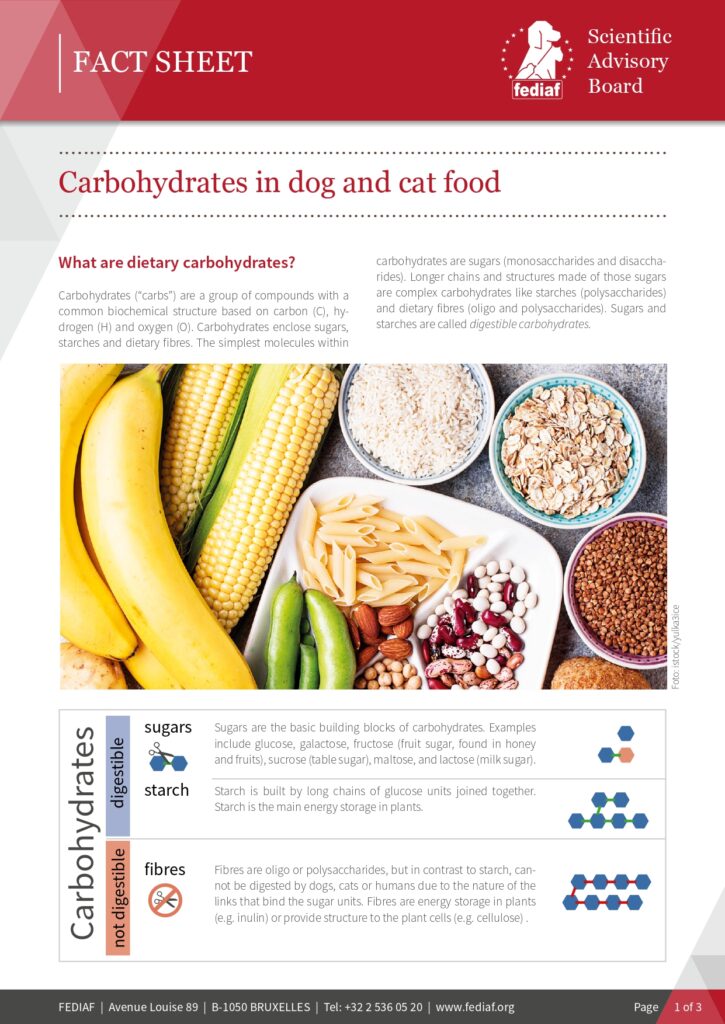 Dr Jakub Rusek, FEDIAF policy advisor adds: "We are delighted to be expanding our range of factsheets, which are a valuable resource for pet professionals at the front line of pet care. A recent survey[1] showed that the FEDIAF Nutritional Guidelines are rated as 'very good or good' by 100% of professionals. We are hoping that our factsheets are equally well received by professionals and owners."
The FEDIAF  Factsheets cover a wide range of subjects from animal proteins and additives, responsible raw feeding and vegetarian diets to more general topics such as the history of pet food and benefits of pet ownership. To view our range of factsheets, please visit our website. FEDIAF's Expert Review Paper can also be viewed on our website.
---
[1] Survey among 45 professionals at the 23rd European Society of Veterinary and Comparative Nutrition (ESVCN) Congress in Turin
For more information, please contact: Thomas Meyer, Secretary General, + 32 (2) 536 05 20 –fediaf@fediaf.org 
Click here to read our previous news
***
FEDIAF represents the European pet food industry with around 200 production sites. It is an umbrella organization of national pet food industry associations plus direct company members. FEDIAF's mission is to be the credible and responsible voice of the European pet food industry collaborating with authorities, regulators and academics for achieving favourable conditions for the supply of safe, nutritious and palatable products to pets and their owners. Based in Brussels, FEDIAF is fully committed to promoting responsible pet ownership, to the wellbeing of pet animals, to their important social role and to the respect of sustainable development.www.fediaf.org