PRESS RELEASE
Brussels, September 2020 – FEDIAF, the European Pet Food Federation, is delighted to unveil the new version of its highly regarded Nutritional Guidelines for Cats and Dogs and introduce two new members of its Scientific Advisory Board (SAB) at the 24th European Society of Veterinary and Comparative Nutrition (ESVCN) 2020 Virtual Congress. The Nutritional Guidelines are updated by the SAB, which comprises independent and renowned scientists from Europe.
Thomas Meyer, FEDIAF Secretary General, explains: We are delighted to support ESVCN at their first virtual conference. It is also a great opportunity for FEDIAF to launch the 2020 version of the Nutritional Guidelines, which is the Industry's 'go-to science-based tool box' for pet food formulation. The Guidelines enable the Industry to adjust the nutritional quality of complete and balanced foods for dogs and cats based on state-of-the-art scientific knowledge."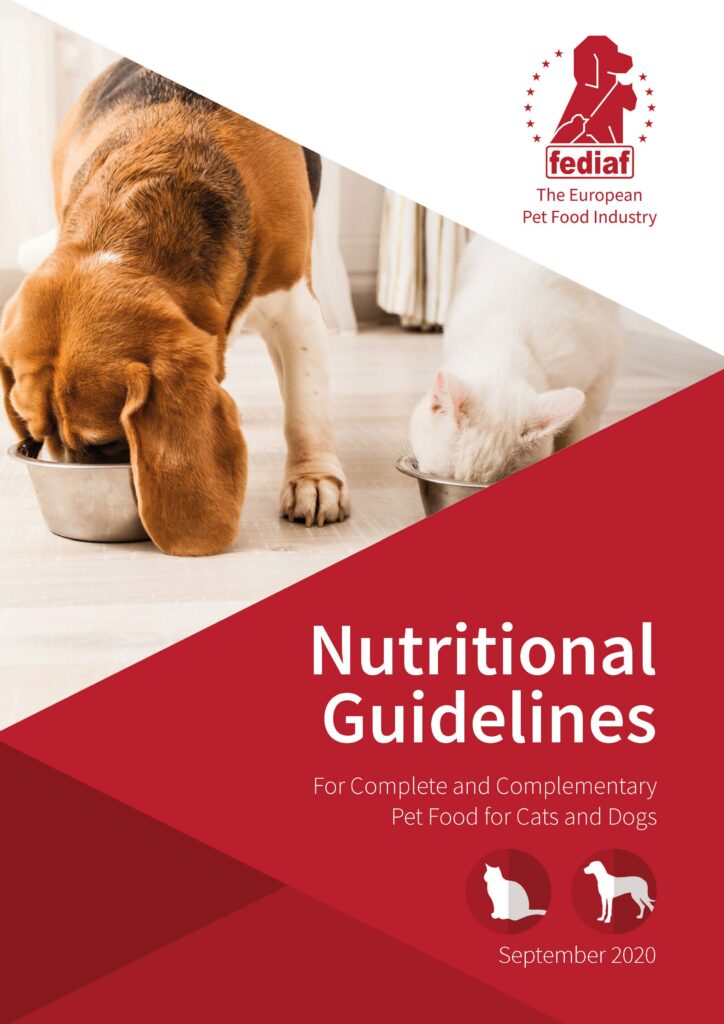 Thomas Meyer adds: "The SAB was established in 2010 and we are delighted to introduce two new experts, to work alongside ten existing members[1]. Dr Charlotte Reinhard Bjørnvad is Professor of Companion Animal Internal Medicine at the University of Copenhagen, Denmark and Dr Ana Luísa Lourenço is Assistant Professor in the Animal Sciences Department of the University of Tras-os-Montes and Alto Douro in Vila Real, Portugal."
Dr Marge Chandler, Chairwoman of the SAB, comments: "Dr Charlotte Reinhard Bjørnvad and Dr Ana Luísa Lourenço offer a wealth of experience in companion animal nutrition and we are delighted that they will be joining the SAB. We value Charlotte's expertise in metabolic derangements during obesity and diabetes mellitus in veterinary patients plus Ana Luísa's expert knowledge in nutrition and physiology."
The SAB's role is to interpret and evaluate the latest scientific research, ensuring that nutrient recommendations in the Nutritional Guidelines are kept up to date. This is an ongoing process and the breadth of knowledge among board members is critical. Throughout the Covid-19 pandemic, the team continues to adopt new ways of working to ensure the Guidelines remain up to date.
For more information about FEDIAF, the Nutritional Guidelines and its commitment to safe and healthy pet food, please visit fediaf.org.
For more information, please contact: Thomas Meyer, Secretary General, + 32 (2) 536 05 20 –fediaf@fediaf.org
Click here to read our previous news
***
FEDIAF represents the European pet food industry with around 200 production sites. It is an umbrella organization of national pet food industry associations plus direct company members. FEDIAF's mission is to be the credible and responsible voice of the European pet food industry collaborating with authorities, regulators and academics for achieving favourable conditions for the supply of safe, nutritious and palatable products to pets and their owners. Based in Brussels, FEDIAF is fully committed to promoting responsible pet ownership, to the wellbeing of pet animals, to their important social role and to the respect of sustainable development.www.fediaf.org
---
Prof. Biagi, Giacomo – Bologna (IT)
Prof. Bjørnvad, Charlotte Reinhard – Copenhagen (DK)
Dr Chandler, Marge – Edinburgh (UK)
Dr Dobenecker, Britta – München (DE)
Dr Hervera, Marta – Nantes (FR)
Prof. Hesta, Myriam – Gent (BE)
Prof. Iben, Christine – Wien (AT)
Dr Lourenço, Ana Luísa – Vila Real (PT)
Prof. Nguyen, Patrick – Nantes (FR)
Prof. Paragon, Bernard – Maisons-Alfort (FR)
Dr Villaverde, Cecilia – Barcelona (ES)
Prof. Zentek, Jürgen – Berlin (DE)