FEDIAF EuropeanPetFood has published its annual Facts & Figures report detailing European pet populations and pet food market data. Report findings confirm a healthy growth of pet ownership in Europe with 91 million European households (46%) owning one or more of Europe's 340 million pets.
Cats (127m) in 26% of households are the most popular pet in Europe followed closely by dogs (104m) in 25% of households.
This increase in the pet population is mirrored by growth of the pet food market, which has grown 5.1% in value terms 2022 and is now worth 29.1 billion EUR.
Key European Data:
340 million pets in Europe
91 million households in the EU own a pet (46%)
There are around 127 million cats, 104 million dogs, 53 million birds, 29 million small mammals, 22 million aquaria and 11 million terraria
Annual growth in volume of the pet food industry: 3.5%
Annual growth rate of the pet food industry: 5.1%
Annual sales volume of pet food products: 10.5 million tonnes
Annual sales value of pet food products: 29.1 billion EUR
Related services and products; 24.5 billion EUR (+4.5%)
Alice Tempel Costa, FEDIAF Deputy Secretary General, explains: "We are delighted to see that so many European households are benefitting from the companionship of a pet.  At FEDIAF we promote the hugely important role that pets play in society.  Not only do they provide love and friendship but they can also form unique bonds with owners. FEDIAF regularly monitors and shares the latest research on the physical and mental health benefits of pet interaction."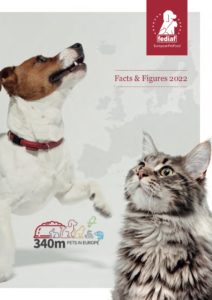 ENDS