Brussels, 4 February 2020 – At its CEO Forum this week, FEDIAF, representing the European Pet Food Industry, brought together industry leaders to discuss the implications of the EU Green Deal and how to work collaboratively under the umbrella of FEDIAF. The virtual event was attended by 20 business leaders from 11 European countries.
Two high-level speakers from European Institutions presented at the meeting. Mr Lukas Visek, member of the Cabinet of Commissioner Timmermans (Executive Vice-President, leading the Commission's work on the European Green Deal), offered participants a clear and detailed overview of current Commission's initiatives and legislative measures that have or will have a direct impact on the European pet food industry. Ms Pernille Weiss, Danish member of the European Parliament (Environment, Public Health and Food Safety, and Industry, Research and Energy Committees), invited the industry to be vocal and engage with European policy authorities, including her own institution, regarding the needs of the industry to contribute to the common sustainability objectives in order to reach the desire targets that have been fixed.
Both presentations were followed up by an exchange of questions and answers between the participants and the speakers. Key topics were raised by the industry such as the importance of harmonisation across EU Member States to maintain a functional single market, and the European innovation fund that can be available for the industry to play a role in the necessary transformation.
FEDIAF President, Ms Annet Palamba (General Manager of Hill's Pet Nutrition Benelux business) commented: "This was a very well organised, high-level event where our trade organisation FEDIAF offered industry leaders a unique opportunity to come together and discuss big picture issues, such as the EU Green Deal. Working together on issues such as sustainability enables us to have a much greater impact than working alone."
The outcome of the discussions will be brought to the attention of FEDIAF's Executive Committee, and a follow up session will further examine key topics that came out of the discussion.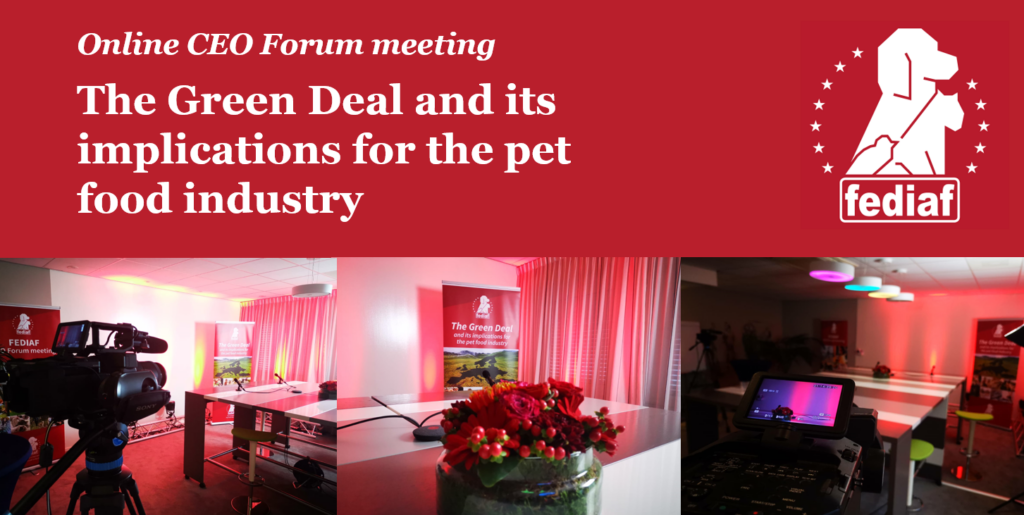 For more information about FEDIAF and its commitment to safe and healthy pet food, please visit fediaf.org.
For more information, please contact: Raquel Izquierdo de Santiago, Secretary General, + 32 (2) 536 05 20 –fediaf@fediaf.org
Click here to read our previous news
***
FEDIAF represents the European pet food industry with around 200 production sites. It is an umbrella organization of national pet food industry associations plus direct company members. FEDIAF's mission is to be the credible and responsible voice of the European pet food industry collaborating with authorities, regulators and academics for achieving favourable conditions for the supply of safe, nutritious and palatable products to pets and their owners. Based in Brussels, FEDIAF is fully committed to promoting responsible pet ownership, to the wellbeing of pet animals, to their important social role and to the respect of sustainable development.www.fediaf.org